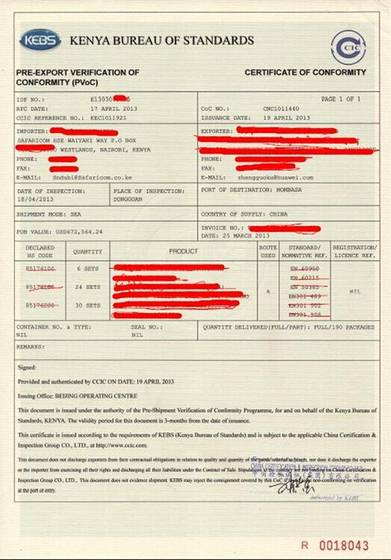 Since September,2005, All goods from China to kenya need PVOC for Kenya Customs clearance.
PVOC (Pre-shipment Verification Of Conformity ,we also called COC( Certificate of Conformity).
The Chinese Supplier need to have the PVOC before shipment.
Now most of the Chinese supplier cann't offer the PVOC for Kenya,or the price is very high,
Our company have connection to do the PVOC for Customers from Kenya with reasonable price.
Most important, Every shipment to Kenya to China need the PVOC.
We are especially in furniture,lighting,tiles ,building materials, hotel supplies, gift, fashion, and electrical appliance, and have established close partnership with architects, contractors, importers, retailers, and even home owners.
We do quality control ,Shipment and customs documents for all the customers.
Any questions, please feel free to contact us NOW.
Best regards & Thanks
Michael Gong
Email: cncalling AT gmail DOT com
Phone No./Whatsapp: 0086 135 1272 3439
Tags: Kenya customs clearance documents Kenya pvoc programme We offer Kenya pvoc how to get Kenya pvoc Business interpreter for Kenya buyer Kenya and China sourcing agent Shipping cost from China to Kenya
« Guangzhou English driver with Car Foshan shipping agent Zhongshan business guide in China | Guangzhou wedding glassware wholesale markets guide English-Speaking driver»